Autocount POS System
New Computer / tablet
New Mouse
New Keyboard
New Cash Drawer
New Touch Screen Monitor
New USB Cash Drawer Trigger
New Thermal Receipt Printer
Auto Cloud Backup
Features of Food and Beverages POS System
Get Software + Training + 1 Year of Support at attractive rates! Only with us. CONTACT US NOW →
At XANTEC, we offer a full range of F&B (Food and Beverages) POS solutions to all kinds of restaurant.
POS system is an essential tool for restaurants and cafe. We designed the Autocount Restaurant POS System to be versatile and easily configured to suit most restaurant environment. A typical restaurant consist of many components, such as:
Reservation
Our F&B POS System Malaysia have built in table reservation management and options for reservations. You can reserve table for your customer with calendar features e.g date and time, essential for managing restaurant floor operations.
Track the status of your tables at any given time. For instance, which tables are occupied, being cleared or available. This integration creates seamless experience for managing your restaurant tables and seating arrangements.


Sets
Our F&B POS System Malaysia has built in restaurant set menu module for your F&B outlets to be more efficient. Whether you are operating a restaurant, cafe or fast food kiosk, the set menu system can be customized to meet your needs.
Our POS System Malaysia allows you to set options in your set menu such as set dinner, set lunch, kid meals and etc. Having clear set menu in the POS system helps to improve kitchen communication with service staff. Thus, making your customers happy as your service staff follows up with all the orders diligently.
Memberships
You can create many kinds of membership level with our integrated membership system. We have help many restaurant owners to retain customer loyalty with our affordable membership system.
Manage membership price
Membership expiry date
Membership with points
Membership with discounts


Multiple Types of Payment
Choose any payment methods or partners that fits your business needs. This allows your cashier counter to take payments faster and securely. The cashback given by e-Wallet partners can be used to encourage customers to spend at your F&B outlet again during their next visit.
Cash, Credit Cards, Coupon, Points Redemption
e-Wallet, Alipay, WeChat Pay, Touch and Go Acceptance, etc.
Take Away
Our F&B POS System Malaysia covers operations for all multiple order status. Starting from take away, self-service, dine in and custom statuses. This reduces errors in order type and increases speed of service.
Having flexibility to choose from Take Away, Delivery or Dine In, it will be easier for service staff to track the order type and simplify the billing process with restaurant management system. Through these features, all orders are immediately displayed in the kitchen screen to jump start the order preparation, resulting in quicker and better service.


Tables Layout
Comprehensive table layout design to match your floor plan. In many restaurants, tables matter and locations are different. Many restaurants will take order via layout, pay via layout and even reserve from table layout. We provide many easy to use features and functions. We know that the restaurant waiters will be very busy, so reliable tables layout system is very important.
Order & Payments
In a typical restaurant, a cashier is counter for user to make payment or customer make order from order stations. There are many utilization or operation flows such as:
Order first, waiter provide ordered list, and use it for payment.
On table interactive menu.
Dine in or take away.
Reserve or booking.
No matter what process flow that you have, a cashier or point of sales is the most essential part of your business where you receive your payment.


Ingredients
Ingredient function allows the system to show us the ingredients that goes into the meal or drinks. For example, a cocktail or fruit juices may have more than 5 ingredients. The drink may have a fancy name and inside the Ingredient section, you can add details such as 2x apples, 1x orange, half watermelon and etc.
Multiple Printers Support
POS System Malaysia supports receipt printing at up to 8 printers, which makes large outlet operations a breeze. You can link the printers to your order stations, dry kitchen, wet kitchen, beverage corners and etc

Queue Management Integration
If you need to manage queue or display queue numbers to customers, our queue management system is right for your restaurant. Instead of using Table Number format, you can use receipt reference number format or set custom queue number. Our POS Customer Queue Management System is able to
Direct link to Queue Management screen display for customers
Alert customers when food is ready
Kitchen Queue Management System
Kitchen Queue Management System boosts kitchen staffs' performances as well as speeds up kitchen management. Benefits of Malaysia POS System Kitchen Queue Management includes:
Managers can view ordered food
Chefs and kitchen helpers can keep track of food preparations
Chefs can prepare food on first-come-first-serve basis


Sync to Cloud
You can sync all the data to cloud and backup your data safely. Whether it is restaurant chains or franchises, you can easily control various daily ingredients used report, monthly total transactions, menu items and more from any location.
Remote administration
Remote reporting
Cloud backup
F&B Cashier
The cashier is a basic feature of any POS system Malaysia. With a cashier integrated into your FnB POS system, you will be able to easily accept payments from your customer based on their orders. With this, you can avoid mistakes like charging customers for the wrong orders.
Complimentary POS hardware:
Cash Drawer
All-in-One POS terminal
Thermal Receipt Printer
Food and Beverage Order Station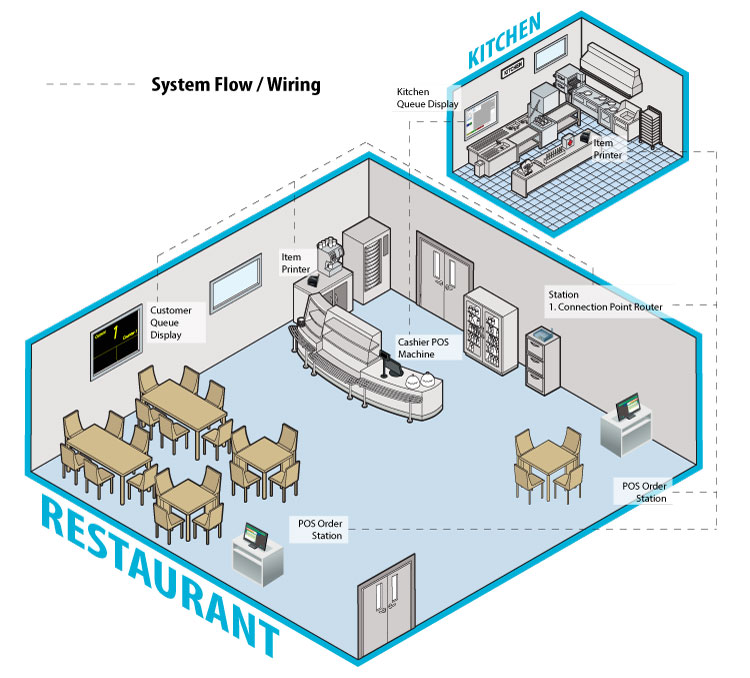 If your restaurant is big, you have the need to install order station around your restaurant. It is for the ease of your waiter to make order, amend order and even cancel order. Our order station is design to be simple and light.
The order station is an Android tablet with a lock stand
It is connected WiFi with the cashier POS machine
When order made in order station, an order list will be printed into the kitchen
Low cost
One POS System can work with multiple order stations
Waiter Mobile App for Order Taking
Every POS Market system is capable of supporting multiple mobile ordering client, as long as you have the POS system, you can activate the our mobile apps to work with the POS system anytime, then the waiter will use the android application for ordering purposes.
Accounting, Inventory and Sales Report
Other than POS for F&B, we do help our customers to achieve more by providing them
Accounting solution
Report customization